News
06/05/2009 - Hilary Benn visits airAlert at King`s College London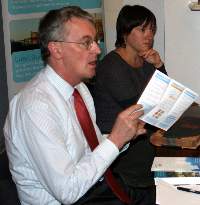 The Rt Hon Hilary Benn MP: Secretary of State for Environment (Defra), visited King`s College London on the 5th May 2009, to see the airAlert service control centre.

Mr Benn was introduced to the forecasting and delivery of alerts by Gary Fuller (King`s) and given an overview of the airAlert Sussex operations by Nigel Jenkins (Sussex-air).

He was shown how the airAlert service utilises near-real-time data from air quality monitoring stations to provide the airAlerts to vulnerable people including those with respiratory conditions such as asthma and COPD, and schools (airAlert-4-schools) in Sussex.

Defra have supported this Local Authority initiative through air quality grants.
More information