News
20/05/2011 - Press release - air pollution alert effectiveness research (Sussex-air and King`s College London)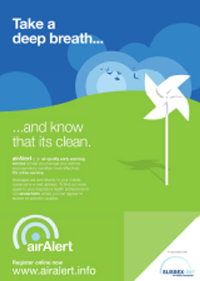 A new study, launched today, will look at how improved public information might reduce the impact of air pollution on the health of vulnerable people, such as those with asthma and other breathing difficulties. The research will be looking at the likely effectiveness of services like airAlert and airTEXT and estimate the likely impact of these services to assist these vulnerable people.

The joint project involves partners from the Sussex Air Quality Partnership, the Environmental Research Group (ERG) at King's College London and St George's, University of London (both members of the MRC-HPA Centre for Environment and Health).

The research will be lead by Dr Heather Walton at King`s College London with associated research undertaken by Dr Richard Atkinson, Senior Lecturer in Epidemiology, Population Health Sciences and Education, St. George`s, University of London. The Sussex Air Quality partnership (Sussex-air) will assist by providing information and support regarding the airAlert service.

Dr Walton said: "Our research is aimed at quantifying, on a theoretical basis, the likely effects of these kind of alerts on people's health."

The research is programmed to start in June 2011 and run for 12 months.

Click the more information link for the press release and download additional information here.
More information